Since learning doesn't (or shouldn't) stop in the summer time, last year I worked with a group of bloggers to put together a great Summer Camp at Home Series. I've decided to continue with this series this year and share even more resources and tools to help parents find fun ways to keep the learning growing while the kids are out of school.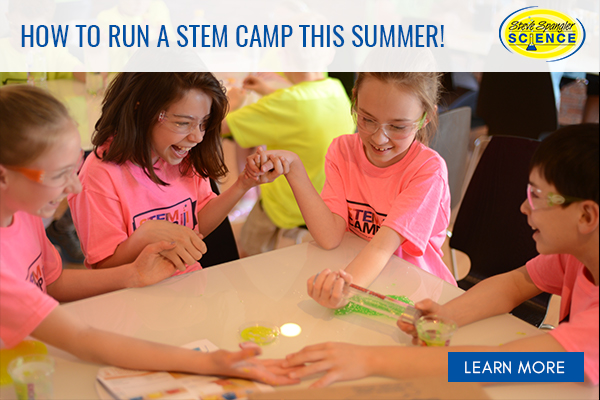 How To Run your Own STEM Camp At Home
STEM, which stands for Science, Technology, Engineering, and Math, is such a major focus in schools and now even more so in my home, as it is such an integral part of my kids' learning and development. I share a bunch of STEM tools that we personally use here and I can tell you that utilizing the products I recommend have made such a huge difference for my girls. These fun and hands-on approaches to STEM learning have helped them tremendously with thinking critically, creating, designing, and making meaningful connections between their schoolwork and personal interests.
Steve Spangler Science has just introduced a simple STEM Camp Kit for parents to utilize at home either just for your own kids or for however many kids you want. So, whether you're having a little fun with your kids, running a homeschooling co-op, or enterprising to create your our own summer camp at home, this is the perfect solution.
The Steve Spangler STEM Camp consists of five days of activities per pack. You decide on the number of children you are training and they will provide five days worth of supplies for each child. The STEM Camp Collection is geared toward ages 5 – 11 years old and includes materials for 2 hours each day.
What's included in the STEM Camp
Each child will receive their own STEM Camp Collection box that will include one each of the following kits: Mad Scientist Laboratory, It's Electric, Bubblology, Water Magic, and Newton's Antics. The number of kids you want to invite to your camp is completely up to you.
STEM Camp Curriculum
Of course you can feel free to switch these up however you like, but typically, Steve Spangler Kits go in some sort of reasonable order for learning. The STEM Camp Kits provide the following 5 day curriculum:
Day 1 – Mad Scientist Laboratory
Engage with colorful creations that don't stain
Dive into basic chemistry to start the week
Experiment and solve challenges, like creating a lava lamp
Day 2 – It's Electric
Explore the differences between insulators and conductors
Turn your own body into a human conductor of electricity…and it is perfectly safe!
Day 3 – Bubblology
Learn about the secrets of bubbles
Touch and bounce bubbles without popping them
Learn how to make a square bubble
Day 4 – Water Magic
Make a jar of water defy gravity, while turning it upside down
Learn about surface tension
Learn about polymers and their everyday uses
Day 5 – Newton's Antics
Explore Newton's First Law of Motion
Learn about gravity, friction, inertia, and centripetal force
Learn more about starting your own STEM Camp for Kids
Steve Spangler Science has a ton of resources and a customer support team to help you with everything you need to get started running your camp. Visit them online or watch this to learn all about Summer Learning with STEM Camp.